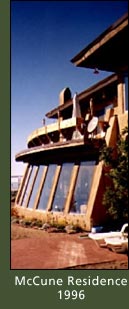 Twenty years ago there was very little public awareness about organic and natural foods. There was only a smattering of health food stores and food co-ops, while otherwise the availability of healthy food was a rarity. As the demand for organic, less processed and more nutritional foods grew, so grew the market and so today we see such successful chain 'super markets' as Whole Foods and Wild Oats, not to mention the multiplicity of organic and natural food producing companies that supply them.

Currently, the building and real estate development industries are at the exact place that the food industry was twenty years ago. With growing public awareness about indoor air quality, toxic building materials and 'sick house syndrome' there is a rapidly growing market for organic and natural homes as well as sustainable, non-toxic building materials. As of yet there has been very little 'main-stream' endeavors to move into this newly growing market niche, leaving open a potentially very lucrative business opportunity. Also, at this time, there is an ever growing concern about energy and our dependence on non-renewable fossil fuel sources; the burning of which happens to be the primary cause our current state of environmental degradation. Once again main-stream industry has been slow to respond; lack of interest from the Federal Government has not helped the situation, nonetheless, here again, is another great market potential.

In addition to the conversation about profitability there is an even more important purpose to pursuing this direction: environmental healing and enhancing the human condition. This is the essence of BIOME DESIGN and the principal focus of the work performed and promoted by Architectural Harmonics. We have set ourselves apart from the herd by developing expertise in such areas as: alternative construction methods, natural building materials, renewable energy systems, harmonic proportions, indigenous wisdom and timeless traditional design. Architectural Harmonics stands in the vanguard for bringing natural and sustainable product into the building and real estate development industries. The opportunity is before us is to create the 'Whole Foods' of the construction industry.

Biome Design Principals can be adapted to virtually any scope of building and development; examples follow:


Residential example: Ben Levi Residence - Boulder, Colorado - 2001
Winner: Colorado Renewable Energy Society - Award for Excellence - 2002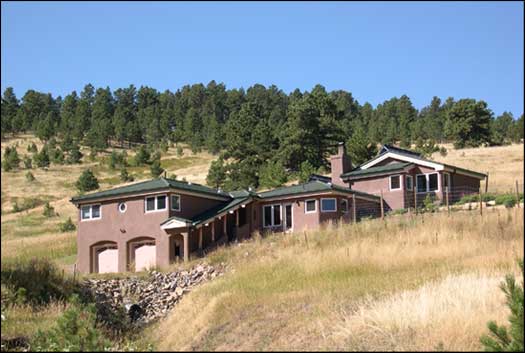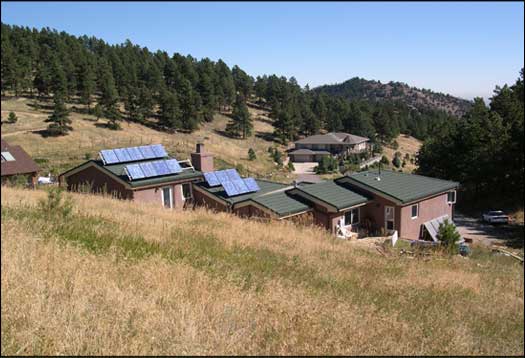 SUSTAINABLE FEATURES:
Pumice-crete (organic, non-combustible) construction
Earth bermed into hillside
Roof water collection cistern (2000 gal.)
Photovoltaic system (1.8 kw) w/ net metering
Solar hot water collectors
Masonry mass fireplace w/ water heating coil
Hot water storage tank (500 gal.) w/ heat exchangers for radiant heat & domestic hot water
Harmonic Proportions
Wild fire safe construction
Non-toxic building material & finishes
Daylighting ('Solatubes') for interior spaces
Heat recovery ventilation/filtration system
Root cellar cool storage (114 sf)
Cistern water filtration system
Grey water landscape irrigation system
Metal tile (non-combustible) roofing


Commercial example: San Luis Headstart - San Luis, Colorado - 2003
SUSTAINABLE FEATURES:
Compliance as a 'contributing structure' to the San Luis Historic District
Passive solar design; 'Solar Gallery' with adobe block trombe wall
15 kW 'Uni-Solar' panels; Building Integrated Photovoltaic electric system
Interior daylighting; 'Solatube' skylights
Attic ventilation: 'Solar Star' Photovoltaic attic fans
'Pella' windows with 5.5 R value and integral shades
'Reward Wall' ICF exterior wall construction for high energy efficiency and structural integrity, also saves trees otherwise used for wall framing
Natural ventilation; Heat chimneys vent solar heat gain in summer and circulate it into classrooms in winter
Pre-heat or cooling of make-up outside air
Non-toxic and low VOC building materials and finishes through-out
Traditional Harmonic Proportions


Community example: HASAV - High Altitude Solar Adobe Village
(design only; for a site near Crestone, Colorado @ 8000 ft. elevation)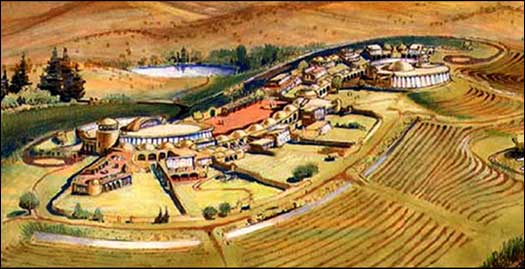 Biome Design integrates village into Ecosystem
Village community; year round living for 100 people
Community School and Conference Center for 250 people
Design incorporates Natural Harmonic Proportions
Key Systems:
Building Construction:
Design

Shaped by topography
Harmonic Proportions

Materials

Indigenous
Organic - non toxic
Regionally available

Systems

Domes, arches, vaults
Cast in place roofs
Energy Production:
Photovoltaic Electric System

Primary energy source for entire village
32Kw panel array
Battery storage: 4-7 days backup
Designed into site as a retaining wall

Biogas (Methane) System

Anaerobic Digester -first stage of waste treatment
Back-up generator
Distributed for cooking
Heating, Cooling and Ventilation:
Passive Solar Design

South facing windows and glazing
Heat storage media
Attached solar greenhouses

Ventilation

Heat chimneys

Cooling in Summer
Heat distribution in Winter
Air circulation and ventilation
Water Supply and Distribution:
On-site well with PV pump
65,000 gallon domestic water cistern
Sand filtration system
Gravity-fed distribution through village
Asecia (stream) flows through village
Storm water Management:
Design catches all storm water

Roof catchment
Site runoff

25,000 gallon village cistern
1,000 gallon home cisterns
Water retension pond
Uses for reclaimed water

Drip irrigation
Food production and landscaping
Food Production and Permaculture:
15 acres of agriculture land
Bio-intensive greenhouse planting beds
Bio-intensive garden area under fabric screen
Medicinal herbs
Edible landscaping
Aquaculture tanks (edible fish)
Small livestock (meat, eggs, milk, cheese)
Waste Treatment:
Centralized sanitary drainage system

Sewage
Kitchen waste (garbage disposal)
Agriculture waste (shreader)

"Living Machine" -Waste water treatment

Anarobic Digester extracts gas
Sludge is composted for fertalizer
Marsh and pond micro-ecosystems assimilates toxins, pathogens and heavy metals, leaving water potable
Air lift pumping aerates water and feeds fish tanks
Tank overflow irrigates agricultural plantings

Recycling Center
Community Life and Economic Self-sufficiency:
Community Center

Theater/meeting hall
Community school / learning center
Community kitchen/dining
Library & computer center
Art gallery

Village life as educational model
Council style Village governance
Economic base

Education Center for Sustainalbe Living
Agricultural & aquacultural prodece
Cottage Industries
BIOME DESIGN: If we, as a species, are going to fit into the already tenuous balance of the Earth's environment we need to account for all of the ingredients necessary for that balance. The intent of BIOME DESIGN is, therefore, to assess and utilize that which is before us in order to create a built environment that is harmonious with nature. This assessment includes, not only all of the natural resources and elemental forces (sun, wind, water & earth) at any given building site but also all of the concepts, ideas and techniques appropriate for the particular design. There are many groups, agencies and individuals that have been out there for decades, doing great works in developing new innovations in life enhancing technologies, revitalization of old knowledge and creating new methods and materials that support a healthy environment. They are all certainly on the right track, but as long as they each operate separately, trying to hold on to a specialized and separate autonomy, and not see themselves as part of the unity and continuum of creation, then none will see the full potential of their own knowledge that only comes through synergy, from blending and working together to create a comprehensive Whole. The purpose of BIOME DESIGN is the integration of natural materials and energy with our own needs and thereby design ourselves into the ecosystem as a contributing part. It is applicable to urban, suburban and rural development in any and all climatic conditions and can be utilized to generate designs that can enhance both the building's occupants and the surrounding landscape, as well. This approach can be very profitable, not only in monetary return but for environmental 'profit' and well being, as well.